Tamale Pot Pie. Flavorful taco meat and veggies underneath a layer of cornbread.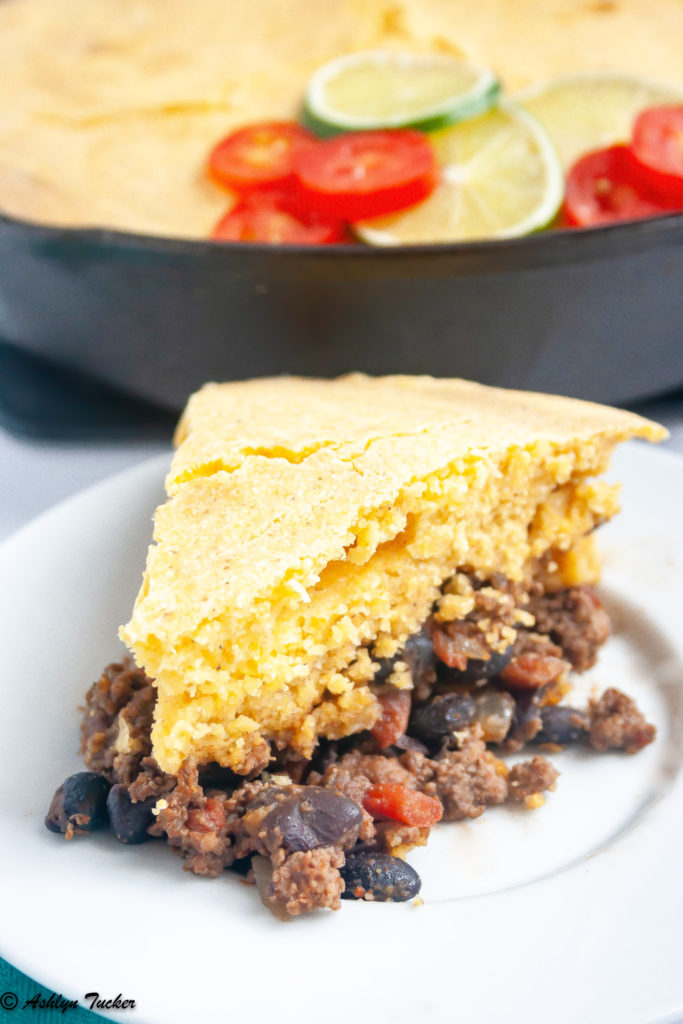 I love Mexican food and I love cornbread so let's just say – I LOVE this Tamale Pot Pie.
It combines the best of both worlds by bringing together a flavorful taco base with ahhhhmazing cornbread. I'm from Indiana where we live and thrive off of corn. Drive 15 minutes out of the cities and suburbs and you'll find yourself neck deep in cornfields!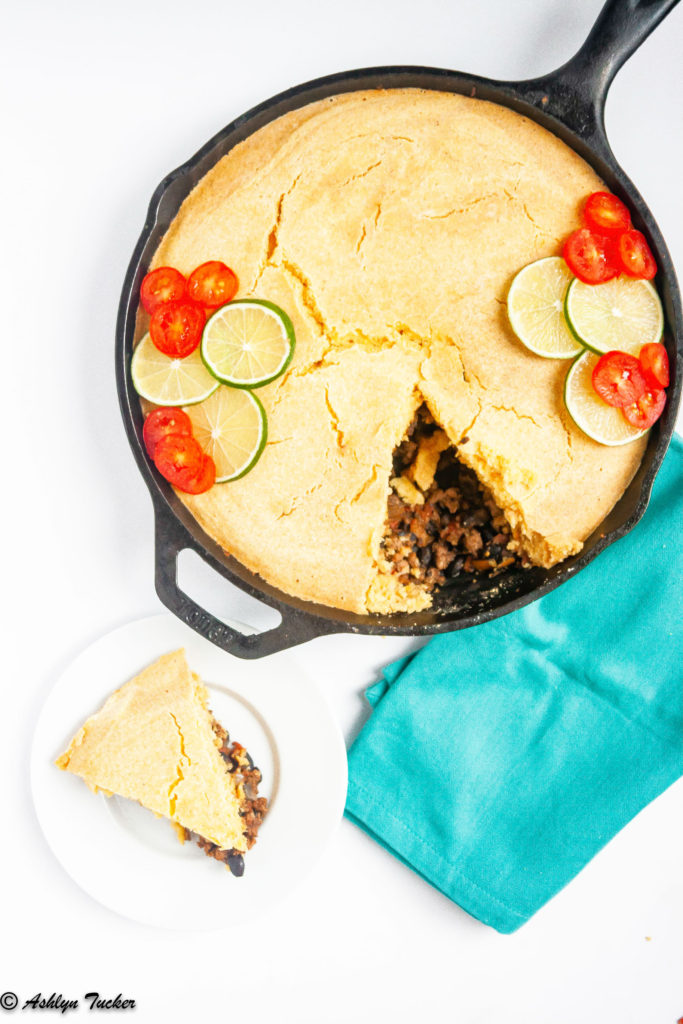 I definitely enjoy corn and corn product foods, but if there's anyone who enjoys corn foods it's my mom. That lady looooves popcorn and cornbread more than anyone else I know! On top of that, Mexican food has been a staple in our weekly dinner routine for years, so it's only natural that my childhood of corn and Latin cuisine has come together in this amazing and hearty dinner!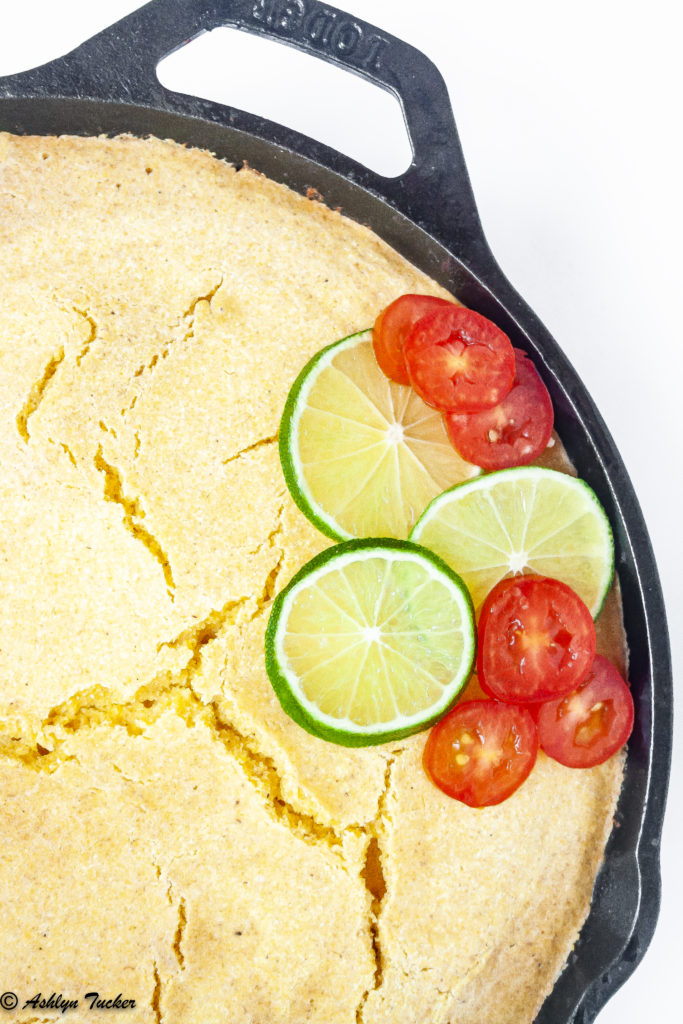 I am so excited about this new food invention I've created here with Tamale Pot Pie! It has an amazing flavor and texture profile, is easy to make, and is definitely family friendly. Let us know what you think in the comments if you try this recipe out!
Want to get your nutrition dialed in? Explore our services and contact us!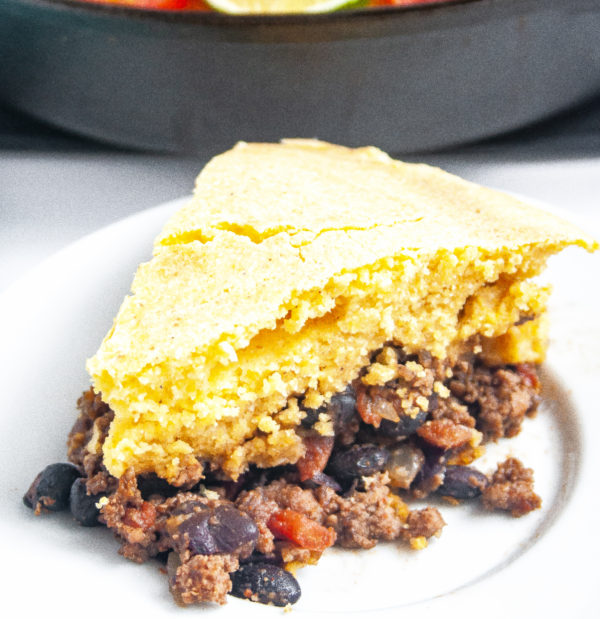 | | |
| --- | --- |
| | |
In a large bowl, whisk together the cornmeal, white wheat flour, melted butter, egg, milk, salt, and baking powder until thoroughly mixed. Set aside.

Place ground beef or turkey into a 10 inch cast iron skillet (see notes if you don't have a cast iron skillet) over medium high heat. Stir and break apart the meat as it browns. Cook until no longer pink then place the cooked meat into a colander or on a paper towel to drain the grease.

If there's a lot of grease left in the skillet, you can blot some out but leave enough to keep the skillet oiled.

Add the diced tomatoes and green onions, black beans, onions, bell peppers, chili powder cumin, and chipotle to the skillet. Cook over medium high heat stirring frequently until the onions are slightly golden and the mixture is fragrant (about 5 minutes).

Remove skillet from heat. Add the ground beef and stir well. Pour the cornbread batter over top and gently spread it into an even layer.

Bake for 25 minutes in the preheated oven or until cornbread is slightly golden and an inserted toothpick comes out of the cornbread layer clean.

Slice and serve warm! Leftovers can be stored in an airtight container in the fridge for up to 3 days.
If you don't have a cast iron skillet, cook the beef and veggies using the same method in a regular large skillet. Then transfer that mixture to a lightly greased pie dish or square baking pan. Pour the cornbread over that and follow the same baking instructions.