Ground Chicken Pesto Pasta. A healthy 20 minute, 5 ingredient pasta meal that makes the perfect weeknight dinner!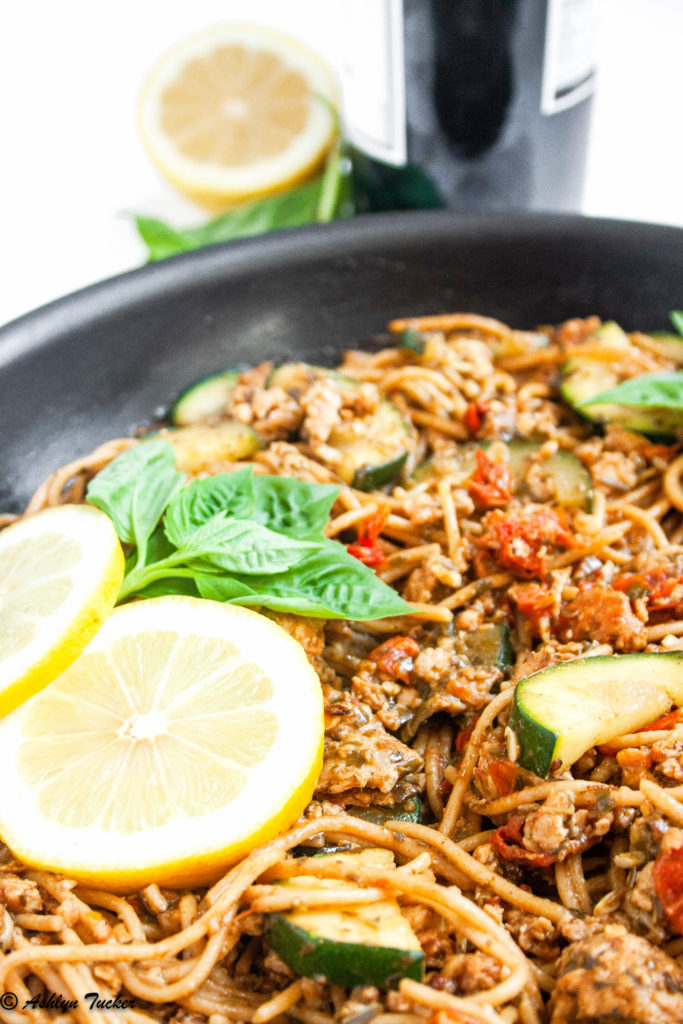 The first time I ever had pesto was in middle school when I spent the night at my best friends house. Her mom made homemade pizza, but instead of tomato sauce used she used pesto underneath. It was surprising and amazing to me! I was hooked on pesto since and love to occasionally incorporate it on sandwiches, in wraps, or stirred into a pasta dish like this!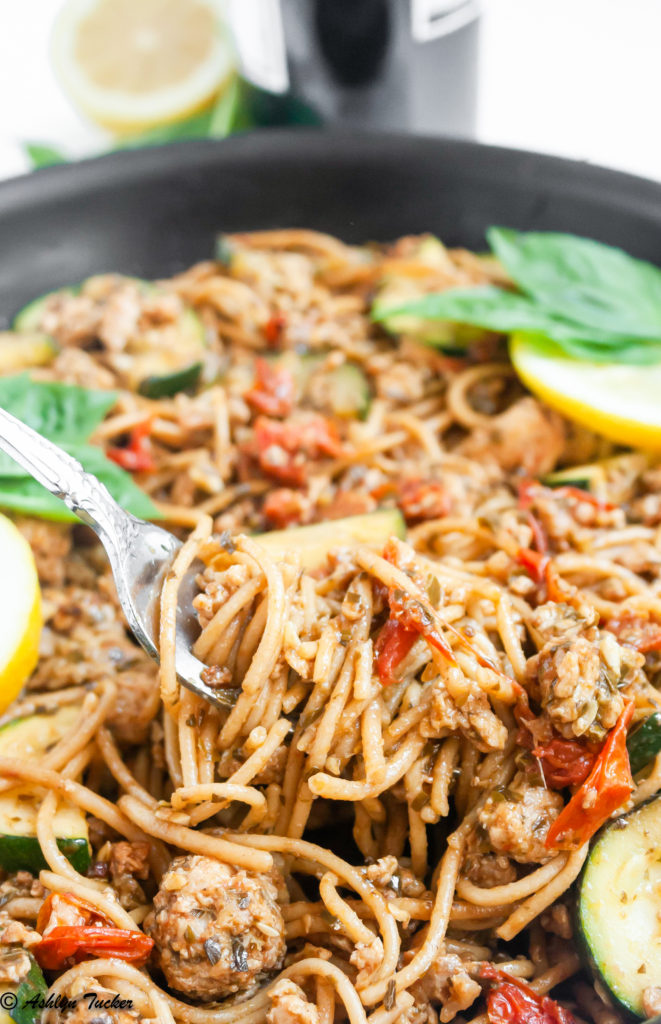 I used ground chicken because it has become one of my favorite meats to use lately. We are usually ground turkey people, but I've been loving adding some variety with chicken. It's another really healthy and lean protein option that works in a variety of dishes from tacos to stir frys to pastas to bowl and more! But if you aren't a ground chicken fan, feel free to sub in turkey or beef.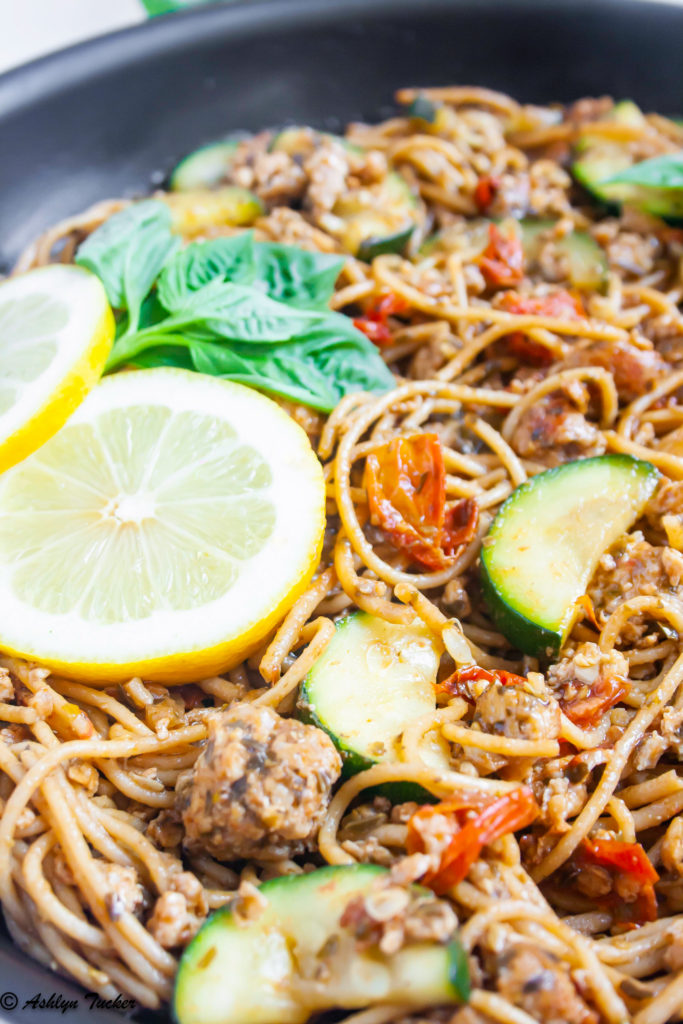 For an extra layer of flavor, color, and freshness I added zucchini and grape tomatoes to the dish. This summer the zucchini has been extra flavorful around here and there has been tons and tons of it available! There is an extra special feeling that comes from cooking with fresh and seasonal veggies.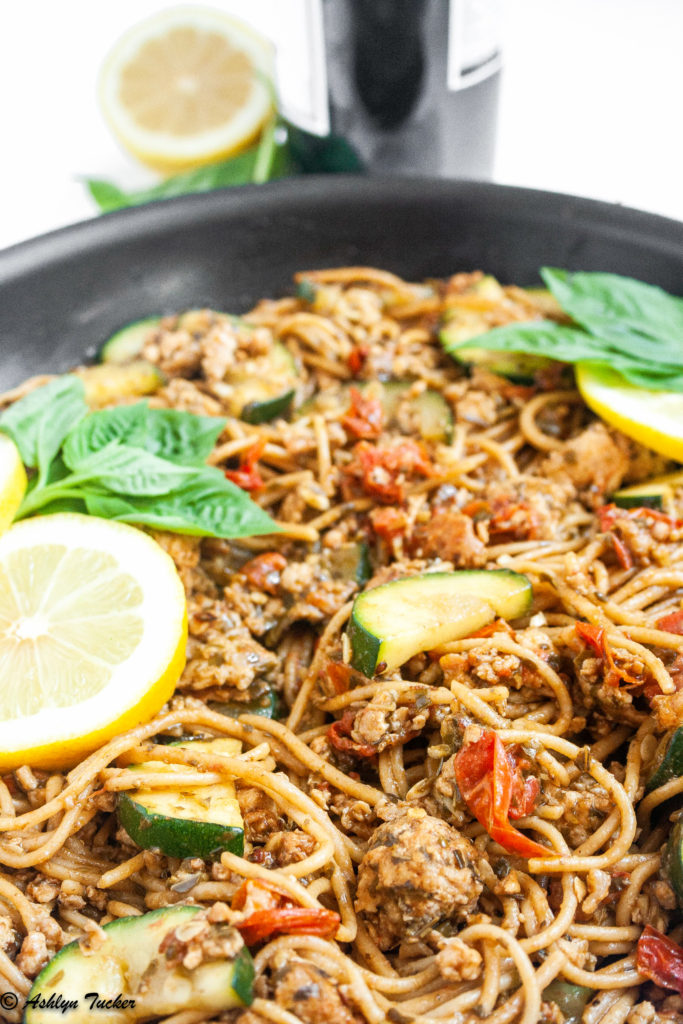 Another reason I love this Ground Chicken Pesto Pasta is because it is super simple and only uses 5 ingredients. To keep the recipe fast and easy I did not add any spices and allowed the pesto to bring all it's wonderful flavor to the dish. If desired you can add some extra garlic or fresh ground pepper, but the pesto does a wonderful job on it's own! Definitely makes this recipe the perfect 20 min weeknight dinner.
Want to get your nutrition dialed in? Explore our services and contact us!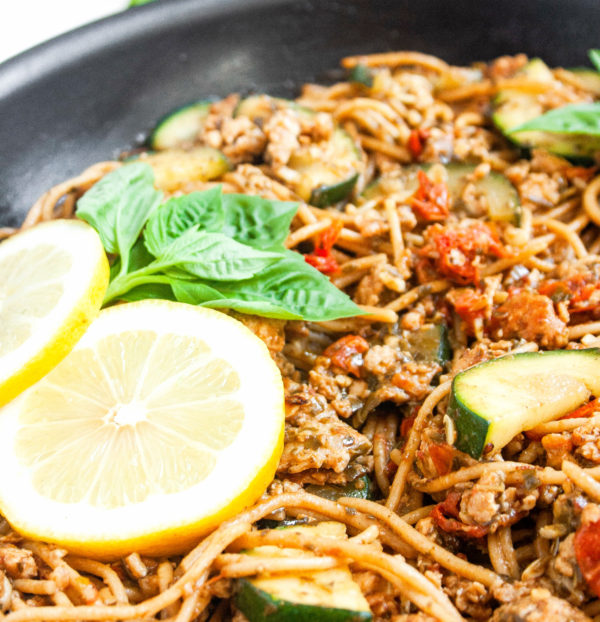 | | |
| --- | --- |
| | |
Prepare spaghetti according to package directions. Drain and set aside once cooked.

While spaghetti cooks, add ground chicken to a large skillet and cook until no longer pink. Stir frequently and break into pieces.

Add the zucchini and tomatoes to the chicken. Cook for about 5 minutes or until the zucchini is just becoming crisp tender.

Add the cooked spaghetti and basil pesto. Stir thoroughly to evenly incorporate everything.

Add the garnishes of lemon juice, fresh basil, black pepper, or parmesan if desired. Serve warm and enjoy!