It's almost the end of October. Are you totally sick of seeing pumpkin-everything yet?
If you can stomach one more blog post about our favorite fall flavor, then read on! From soups to pancakes, pumpkin doesn't just have to make an appearance in lattes and desserts (though we don't hate those, either). We've collected some of our favorite recipes, and all are guaranteed to leave your taste buds and macros singing.
All the recipes have their macro nutrients calculated, so inputting them into My Fitness Pal should be a breeze. Now all you need is a fork or a spoon.
Nutrition: (per pancake) 173 calories, 10.9 g fat (2.4 g saturated), 72 mg sodium, 11.8 g carbs, 4 g fiber, 5 g sugars, 9 g protein
https://www.cookinglight.com/recipes/roasted-kabocha-kale-salad
Nutrition: (per 2 wedges + 1 cup salad) 141 calories, 5.4 g fat (.8 g saturated), 212 mg sodium, 23 g carbs, 3 g fiber, 13 g sugars, 3 g protein
Nutrition: (per 1 1/4 cup/serving) 148 calories, 4.8 g fat (1.2 g saturated), 202 mg sodium, 21 g carbs, 2 g fiber, 6 g sugars, 6 g protein
Nutrition: (1 slice only – 10 in recipe) 135 calories, 4.6 g fat (2.6 g saturated), 189.7 mg sodium, 19.6 g carbs, 3.4 g fiber, 7.6 g sugars, 4.3 g protein
https://chocolatecoveredkatie.com/2018/10/15/pumpkin-cupcakes-recipe/
Nutrition: (1 cupcake – 9 servings per recipe) 112 calories, 4.2 g fat (.6 g saturated),  138 mg sodium, 18.2 g carbs, 2 g fiber, 7.9 g sugars, 2 g protein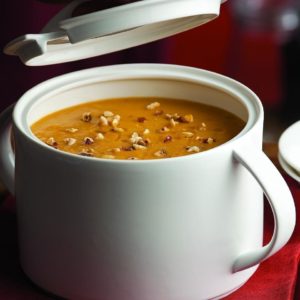 Nutrition: (1 cup per serving) 180 calories, 9 g fat (1 g sat), 525 mg sodium, 25 g carbohydrates,  6 g fiber,11 g sugars, 3 g protein