Healthy Dark Chocolate Date Caramel Cups. A lightened up chocolatey treat that uses dates instead of sugar for natural sweetness!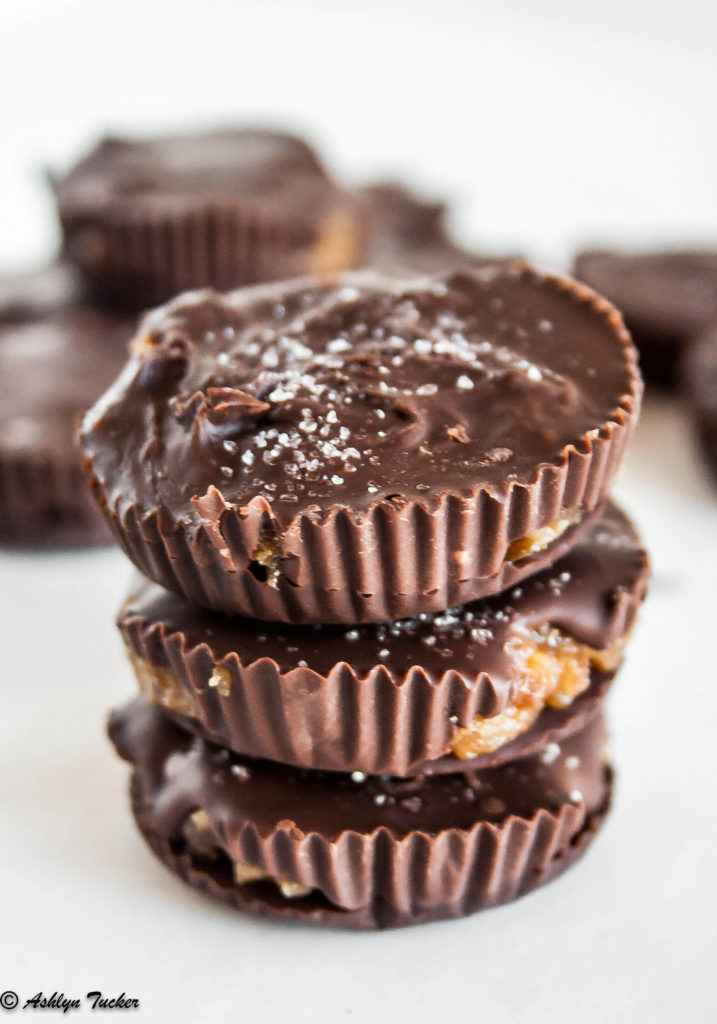 Every year when I was little my family would vacation at a lake house in Southern Indiana. We'd spend every hour of the sunny days fishing and kayaking, then cozy up by a campfire with s'mores at night. But, we would also choose one day to swap our swimsuits for nice outfits and venture into nearby Nashville, IN village to shop.
If you're not familiar with the town, it's an indescribably adorable town that looks like it's straight up out of a Hallmark movie.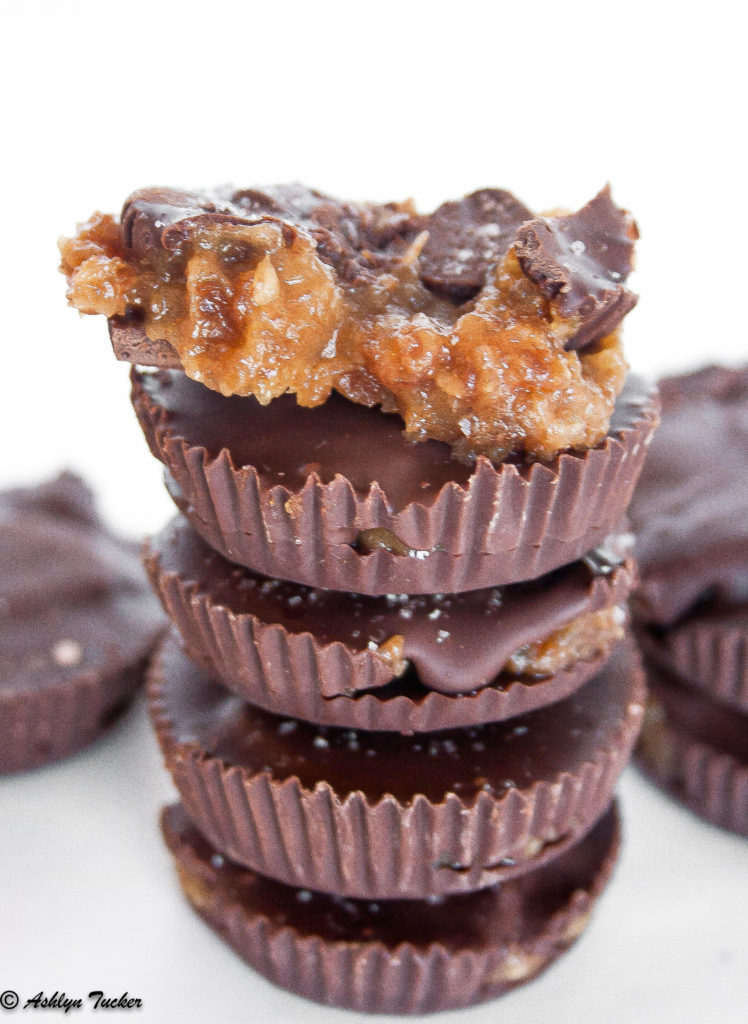 Exploring downtown Nashville as a little girl was the first time I ever ventured into a true candy shop. My tiny hands pushed open the door and the rich smell of sugar and sweets wafted to me.
I was engulfed into a world of candy shelves that towered over me. There were sweets of every size, shape, and color that I could imagine. But it was the display case of chocolates that absolutely enamored me. They were elegant and beautiful in ways that I didn't know candy could be.
And so began my love affair with chocolate.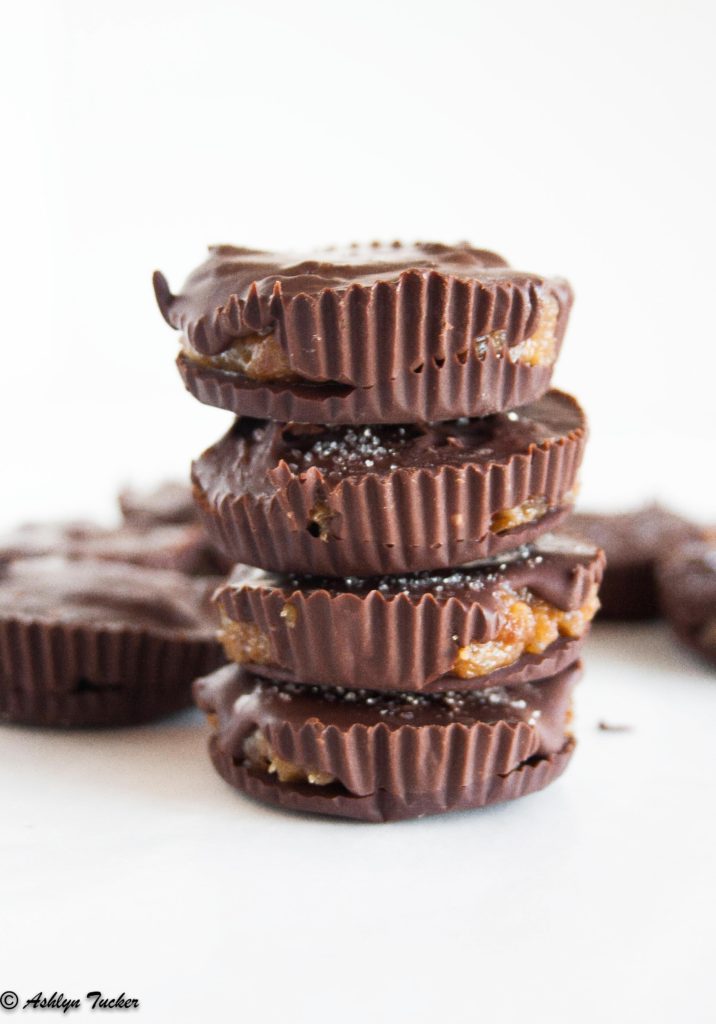 To this day I'll take ANY opportunity I can to enjoy chocolate. It's frequently baked into things or put on them, but I thought it would be fun to shake things up and home make some candy with it. Chocolate candy is something we always associate with a grocery store shelf, but treats can easily be made at home too! And these Dark Chocolate Date Caramel Cups are a super easy 2 ingredient recipe for beginners!

These Dark Chocolate Date Caramel cups look elegant, taste amazing, and will fool every into thinking you're a master chocolatier! So next time the sweet tooth hits, grab one of these delectable little sweets!
Want to get your nutrition dialed in? Explore our services and contact us!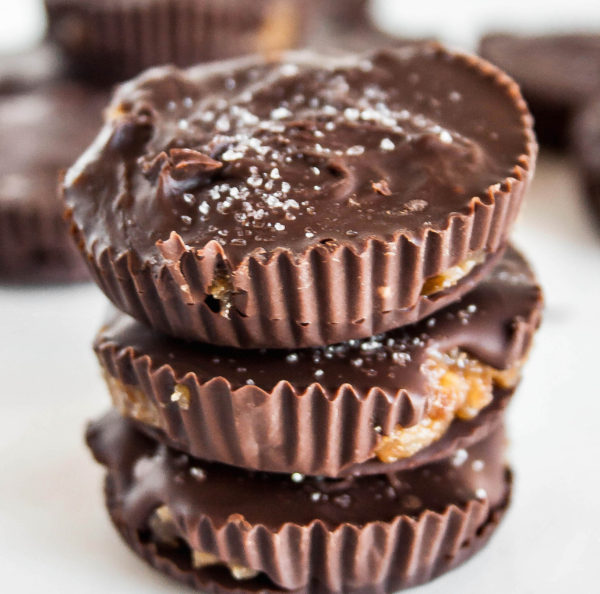 | | |
| --- | --- |
| | |
Line 10 cups of a muffin tin with paper liners.

Melt 1 cup of the chocolate chips in a small bowl in the microwave for 3 minutes at 50% power or over a double broiler. Scoop about 1/2 tablespoons of the melted chocolate into each lined cup. Shake pan to smooth out the chocolate. Place in freezer for 15 minutes.

While the muffin tin chills, puree dates in a food processor. Puree until smooth, streaming the warm water in a little bit at a time. Scrape the sides of the processor as needed and add enough warm water to make the dates into a caramel-like paste. This process will take a little bit of time so be patient.

After 15 minutes, take the muffin tin out of the freezer. Scoop about 1 tbsp of the caramel mixture on top of the chocolate in the muffin cups. Flatten slightly**, leaving a little bit of chocolate available around the edges. Place in freezer again to chill for 5 more minutes.
*You may need to add more chocolate than this as you go, it depends on how generous your spoonfuls are as you go. Just keep adding and melting more as you need. **TIP: The date caramel will be STICKY. So, when flattening it out, I suggest either spraying your hand with some nonstick spray or by wetting your fingers with some water. This will minimize the stickiness and allow you to flatten the caramel into nice circles with smooth tops.