4
Tips t
o Make Meal Prepping Your Macros Easier
After countless consultations with clients, there's a common theme that comes up in almost every conversation. Meal prepping seems to be the most universally recognized difficulty that most of our F5 clients have. Whether it's the fact that you just don't enjoy cooking or having to add the additional time and effort to calculating your macro nutrients, meal prep can be a daunting task. Take a read at some of our favorite meal prep tips below!
1. Find A Buddy
Get a friend to be your accountability buddy! – Or, as I fondly refer to them, your accountabilibuddy. If you're lucky enough to have a roommate or partner who is interested in figuring out their macros too, meal prepping and eating can be infinitely more fun and easier. If you don't have someone close to you for support, you can use the F5 community! Whether it's a coach or someone else following the F5, having someone to rely on for frustration, meal ideas, and sharing successes can be hugely beneficial in your progress. iPhones are even make it easier to track and share your meals between friends with the iMessage feature to send My Fitness Pal meals through text. (YES, it's a REAL THING!)
Facebook Group: F5 Method – Friend Maggie or Jessi on Facebook and we will add you to the group!
Instagram Account: @F5Method
2. Digital Scale
The very first thing I did before I even came in for my F5 consultation was buy a digital scale off Amazon (this one). I had been using a small, analog scale when I first tried measuring my macros a few months prior, and though it worked just fine, it made it about 14 times harder to calculate between units. I used this as an opportunity to understand how much I was eating before getting my assessment and to get used to the feeling of weighing and measuring everything. Once I went
through my assessment, it was much easier to change my mindset to looking for a specific number on the scale.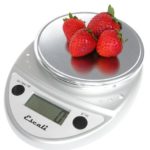 Another tip? Keep the scale on the counter. Don't put it away. Every time I put the scale away for the night or after a meal I am that much less likely to remember to pull it back out for the next time I eat. If it's always sitting out on the counter, looking at me, it is so much harder to ignore it.
3. Time Management
Frozen Veggies & Fruit
Keep frozen vegetables and fruit in the freezer always, just in case. One of my favorite throw-together dinners is a hodge podge of frozen veggies (Mukimame/shelled edamame, broccoli, carrots, cauliflower) and some fresh bell pepper and zucchini all sautéed in a pan and then added to some sort of ground meat. I kid you not, it takes me less than 5 min to make a heaping plate and I never have to think about my veggies going bad in the fridge. Talk about the best of both worlds! Frozen fruit can be a great sweet treat when you're craving something sugary or a quick source of carbs to add to smoothies.
Save Reoccurring Meals
One of my favorite My Fitness Pal hacks is saving the meals that you eat over and over again. Having the same thing for lunch every day this week? Instead of entering each food item every day, just save your meal from Monday and add the entire thing to the rest of the week's days.
To save, click the three dots at the bottom of the meal (breakfast, lunch, or dinner) and choose "Save As Meal". Once you've saved, you can add the entire thing by choosing "Meals" when searching for a food. So simple and so time efficient!
Take Advantage of Weekends
Use your weekends to meal prep- don't assume you'll have time during the week. Carve out at least one hour to get everything done for the next few days, which means you have to meal prep more than one meal at a time. I guarantee that eating the same thing for lunch a few days in a row will be completely worth it when you're finished packing your week's lunches in 10 minutes.
Siri
Use Siri to help with your meal prepping. I know it sounds a little silly, but I don't use Siri for anything except meal prepping. Rather than adjusting the weight of my food in MFP, I'll just ask Siri how many grams of X are in whatever I want to eat. For example, if I have 4oz of banana on my scale, I'll ask her how many grams of carbs are in 4oz of banana and adjust accordingly based on my macros. That way I know exactly how much I need to eat and can input it directly into MFP.
4. Make It Fancy
Go buy yourself some brand-new Tupperware and a new lunch box. I promise, the "treat yo'self" idea is applicable to more than just eating food: shiny, beautiful Tupperware containers that make your food look that much better will make meal prepping that much more fun. Who doesn't want to show off their glass, snap-lid containers in their new lunch box? (It can't be just me….) I promise you, it's going to make packing meals that much more fun. Not to mention your plastic Tupperware containers are probably really old and dirty and some of them don't even have a lid!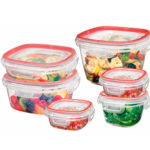 Get rid of 'em. Just do it.
Want to take it a little bit further? Some preliminary studies have shown that eating your meals out of a bowl actually make you feel more satisfied than eating the same meal from off of a plate. Take it for what you will, but I am all about this bowl trend!